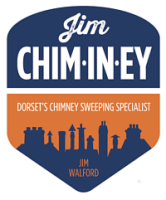 13A Queens Road, Bournemouth, Dorset, BH26BA (Show me directions) Show Map
Monday to Thursday: 07:00 to 21:00 , Friday to Sunday: 07:00 to 20:00
Cash, Bank Transfer, Cheque
Profile
JIM CHIM-IN-EY - Chimney Sweep Specialist - Covering Bournemouth, Poole & Dorset
Your friendly Chimney Sweep Specialist covering Bournemouth, Poole & Dorset

• C.S.A Insurance approved sweep
• Honest, clean & professional sweep
• 5/5 star customer reviews on Google
• Certificate with every sweep
• Smoke test with every sweep

All wood-burners, open-fires & AGAs swept.

Book your chimney sweep today,
Call Jim on . . .
07837 672 548

For more information visit . . .
JimChimney.co

Google: JIM CHIM-IN-EY
Testimonials
Great job, house hasn't burnt down even once since having my chimney swept!
Jim Chim.in.ey stepped in at short notice when my daughter missed my regular sweep by oversleeping (until 2pm) - during a really cold spell.
Happy to recommend.
(Only noticeable side effect is that I couldn't stop humming afterwards)
Review Jim Chim.in.ey Chimney Sweep Dorset - 5 star
Jim helped us out at short notice when another sweep cancelled because of illness. He was prompt, courteous and very professional. Would thoroughly recommend him.
Jim Chim.in.ey Chimney Sweep Dorset - 5 star
Excellent service. Very clean, no mess at all! Highly recommend.
Really pleased with my recent chimney clean
JC was on time, pleasant, and really professional.
Minimal disturbance, very good job done, and I'd trust JC to sweep the chimney in the future!
So much so, I shared his details with another three family members and friends; who in turn have passed his details onto others!
Load More
Testimonials are curated by JIM CHIM-IN-EY and are not independently reviewed or verified.